DOWNLOAD SAFETY PUBLICATIONS
Safety in Window Cleaning Using Portable Ladders
Most falls to window cleaners involve the use of portable ladders. In recent years figures for accidents reported to HSE and local authorities show that between two and seven window cleaners have been killed each year in Great Britain and about 20-30 suffer major injuries as a result of falls involving ladders. Many more suffer less serious injuries that result in several days off work.
This BWCA Publication outlines the current best practice for window cleaning with portable ladders.
Download
---
Safety in Window Cleaning Using Waterfed Pole Systems
In recent years many window cleaners have adopted the use of waterfed pole systems that facilitate the cleaning of windows up to 60ft/20mtrs high from ground level. Avoiding the need to work at height is an obvious immediate attraction, however there are various considerations to be taken into account.
This BWCA Publication outlines the current best practice for window cleaning with waterfed pole systems..
Download
---
The Work at Height Regulations 2005 – A Brief Guide
This leaflet is written for employers, the self-employed and anyone who works at height. It provides general information about how to comply with the Work at Height Regulations 2005, which apply to all work at height where there is a risk of a fall liable to cause personal injury.
Download
---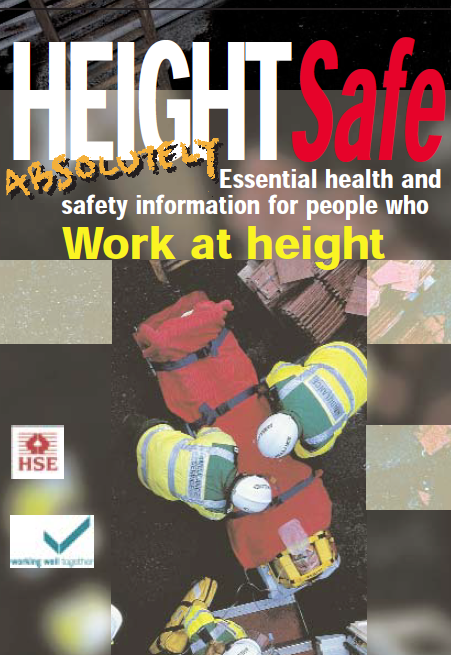 Height Safe – Essential health and safety information for people who Work at height
Falls from height continue to be the biggest killer on construction sites. The following section provides advice for users of ladders and access scaffolds. It will also help those who select and specify equipment.
Download
---
Inspecting Fall Arrest Equipment Made From Webbing or Rope
This leaflet is mainly aimed at employers who are responsible for the use of fall arrest equipment incorporating energy-absorbing lanyards made from webbing and/or rope.
Download
---
COSHH – A Brief Guide to The Regulations
What you need to know about the Control of Substances Hazardous to Health Regulations 2002 (COSHH).
Download
---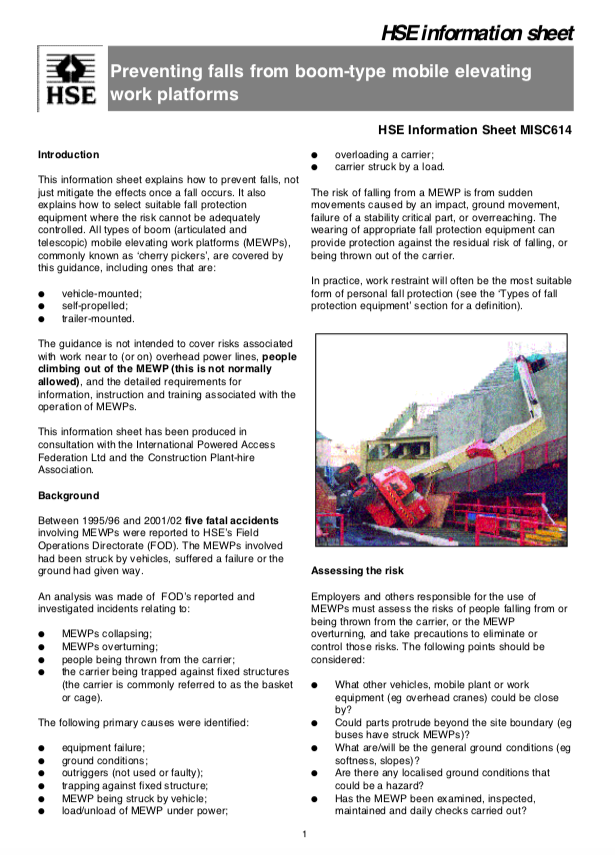 MISC 611 – A Safety in Window Cleaning Using Suspended and Powered Access Equipment
Cradles and mobile elevating work platforms are an ideal form of access for external window cleaning for many larger buildings. MISC611 Provides broad guidance on their safe use.
Download
---
A Guide to Risk Assessment Requirements
This guide is intended for employers and self-employed people who have duties under health and safety law to assess risks in the workplace. It shows how the risk assessment provisions in different regulations are linked and what they add up to.
Download
---
Safe use of ladders and stepladders
This guidance is for employers on the simple, sensible precautions they should take to keep people safe when using ladders and stepladders in the workplace. This will also be useful for employees and their representatives.
Download
---
Getting to Grips With Manual Handling
This booklet explains the problems associated with manual handling and sets out best practice in dealing with them. The advice is intended for managers of small firms or similar organisations, but the general principles are relevant to all workplaces, whatever their size. Avoiding injuries from manual handling makes sound business sense.
Download
---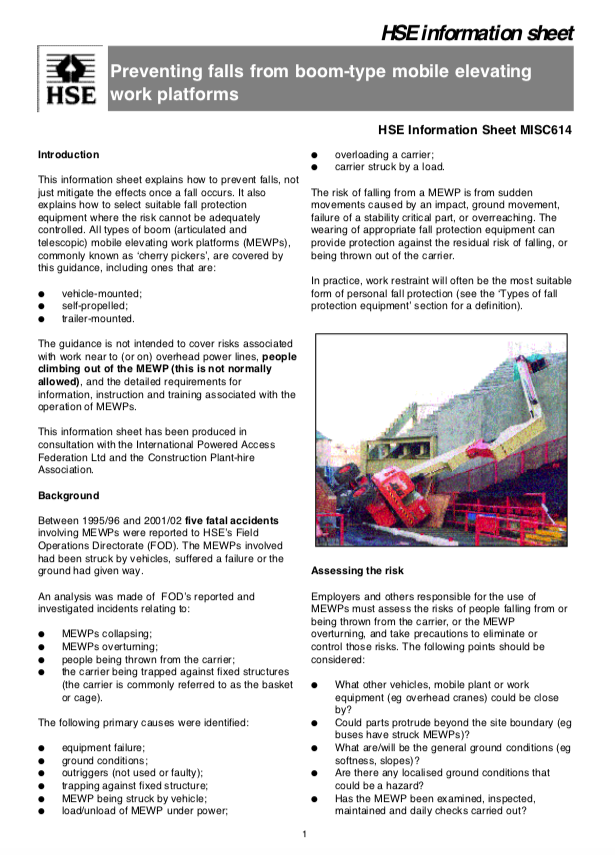 MISC 614 – Preventing Falls From Boom-Type MEWPs
MISC614 explains how to prevent falls from Mobile Elevating Working Platforms (MEWPS). It also explains how to select suitable fall protection equipment where the risk cannot be adequately controlled. All types of boom (articulated and telescopic) are covered by this guidance.
Download
---
A Short Guide to The Personal Protective Equipment at Work Regulations 1992
The PPE at Work Regulations 1992 form part of a series of health and safety regulations implementing EC Directives. The effect of the PPE at Work Regulations is to ensure that certain basic duties governing the provision and use of PPE apply to all situations where PPE is required.
Download
---
REPORTING of INJURIES, DISEASES and DANGEROUS OCCURRENCES REGULATIONS
It stands for the Reporting of Injuries, Diseases and Dangerous Occurrences Regulations 1995. Sometimes referred to as RIDDOR 95, or RIDDOR for short, these Regulations came into force on 1 April 1996.
Download